Dear Parents, Governors, Staff and Friends of Ghyll Royd,
As I reflect on a year like no other, I would like to thank every child, parent and staff member associated with Ghyll Royd School. Each of you have been understanding and shown great resilience over the past months. Your support has inspired me personally to overcome the challenges that we have faced and enabled us to work together to provide a happy and as normal as possible education for the children.
This year has especially been a time to be grateful for the people around us and I have particularly appreciated the help of the PTA who have arranged exciting events throughout the Autumn Term. Thank you to everyone who helped organise the Virtual Disco, Halloween Day, Molly's Magical workshop, birthday parties and the Christmas Bazaar – the children absolutely loved them.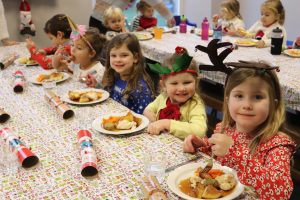 Behind the scenes, all the staff at Ghyll Royd have been working hard and often given hours of their own time to ensure our educational provision is delivered in school or online. They have been a tremendous team supporting children, parents, and their colleagues. Thank you to you all.
I feel immensely proud of Ghyll Royd's achievements in 2020 and the way our School, Pre-School and Nursery has been able to continue to teach and provide an exceptional educational provision since March, be it online or here at Greystone Manor. While we continue to deal with the effects of the coronavirus pandemic, please be assured that the children's safety remains my top priority. The systems that are in place will continue to cause minimal disruption to the children's school day in the Spring Term.
I am looking forward to beginning my 17th year at Ghyll Royd, my 7th as headteacher. 2021 is certain to be an exciting year to celebrate the school's 132-year history as together with senior leadership, class teachers, EYFS, administrative and operational staff and the governing board, we will prepare for our next inspection by the Independent Schools Inspectorate (ISI).
Independent Schools Inspectorate
The ISI will examine the school's compliance and educational provision which is quality assured on behalf of the Department for Education. Our last inspection in March 2019 focused on compliance and concluded that we were fully compliant in all areas. Our next inspection will assess educational quality and compliance.
During our last educational inspection in 2015, the school passed with flying colours. The children's 'exemplary' behaviour and approach to academic studies and the 'Excellent' level of pastoral care, safeguarding, health and safety and curriculum were all highlighted, and we have aspired to build upon those judgements over the last 6 years.
Judgements  
Latest ISI Rating (2015)
THE QUALITY OF ACADEMIC AND OTHER ACHIEVEMENTS
Good
THE QUALITY OF THE PUPILS' PERSONAL DEVELOPMENT
Excellent
THE EFFECTIVENESS OF GOVERNANCE, LEADERSHIP AND MANAGEMENT
Excellent
EFFECTIVENESS OF THE EARLY YEARS FOUNDATION STAGE
Good
I am looking forward to sharing with the inspectors how we have developed our commitment to providing excellent pastoral care and teaching and confident that the inspection will positively reflect our wonderful school. Together we have certainly grown and flourished consistently aspiring to provide exceptional education in a nurturing and stimulating environment. Each child at Ghyll Royd is valued, encouraged and challenged to succeed.
Developments
Since the last inspection, we have developed areas through our school improvement plan, with the aim to achieve 'Excellent' in all areas. In the past 12 months, we have developed our grounds with the expansion of our woodland to enhance our outdoor provision along with the new car park. We have had a full IT upgrade which helped us to be successful delivering our Distance Learning in Teams Experience (DLiTE) in the Spring Term. Since March, we have implemented the following to improve our online safety and teaching tools:
·        An upgraded firewall to improve the security and safety of online usage and a simpler way to track searches.
·        New desktops, remote keyboards, and interactive whiteboards.
·        The latest Microsoft for Educational programs for teachers and children to use.
·        Letter-join – an online resource that uses interactive animations and worksheets to practise handwriting in school or at home. This is a welcome addition to our online teaching tools which already include Languagenut, Bug Club and Active Learn.
·        Boxall – an online assessment tool for social, emotional and behavioural difficulties for children and young people. Boxall enables teachers to identify, set targets and monitor the pastoral progress of pupils.
I am looking forward to seeing the impact of these IT educational enhancements in the New Year, and the overarching improvements the upgrades will make to our IT provision.
We are extremely proud of our commitment to Art and Music and continue working towards our Artsmark award. Award announcements for 2020 have been rescheduled for 2021. Ghyll Royd aims to be awarded Artsmark Platinum status, a reward for our commitment to creative learning and our work in promoting the arts in the local community. May I say a big thank you to Mrs Coultas and Miss Smith who are instrumental in engaging our pupils with the arts.
Independent Schools Association
Please join me in wishing Sapphire, Lolah, Kirk, Freddie, and William the very best of luck for the New Year. Each of these children received first prizes in the Independent Schools Association's Regional Art competition. Their artwork will be now judged in the National finals against 534 other schools in February. Last year we received our first National Winners certificate.
I would like to send my best wishes to the outgoing CEO of the Independent Schools Association (ISA), Neil Roskilly who has been a great support to the school. The ISA works with over 500 of the best accredited schools across the UK to provide the highest quality information and advice, enrichment and professional development opportunities. To be elected to membership, inspection standards must be reached and maintained, and the ISA provide a kite mark of quality to the school that belonging to a premier association provides.
Academic Achievements
In a year that has had many challenges, we can certainly be proud and celebrate our school's academic achievements. Once again, we were finalists in the Independent Schools of the Year Awards, the only school in the North of England in the Small School category to reach the final. Our SATs results were published in The Sunday Times Top 100 Independent Schools in November. Well done to our 2019 leavers for the tremendous results – 64th in the country and the second highest Independent School in the region! For a non-selective school this is a huge achievement for a second year running. We achieved these exceptional results whilst delivering our Learning Challenge enriched curriculum weekly including Science, History, Geography, Art, Drama, MFL, Music, PE as well as the extra experiences we offer. At the end of Year 6, our pupils move on to their secondary schools with a 'Foundation for Life' performing well above the national average in English and Mathematics.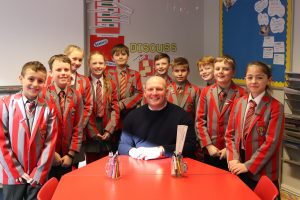 It is now time for each of us to take a well-deserved break. Thank you all for your cards, messages, gifts and the thoughtful words that I received last Friday, organised by Mrs Dhalla. I will admit to having a 'Martin Freeman' moment when he reads the letter to Father Christmas.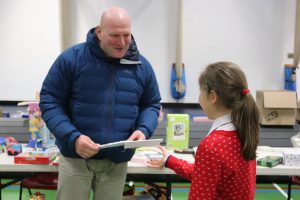 I wish you all a Merry Christmas, a Happy New Year and the very best for 2021.
Kind regards,
David Martin BA MA PGCE
Headteacher