Our admissions team is working hard to answer all enquiries. Get in touch with us to discuss availability and transitions.
Visit Us
Visit one of the top 10 Prep Schools in the UK, a School which is loved for its family friendly atmosphere. Experience life at Ghyll Royd School and meet our polite and happy pupils. We warmly invite prospective parents and their families to visit the school to see for themselves the breadth of education and facilities on offer and see for yourself what a special place Ghyll Royd is.
Some parents prefer to attend an Open Day Event while others prefer to make an individual appointment with the Headteacher. We understand that deciding upon the right school for your child is an extremely important decision. Therefore, we encourage parents to visit the pre-school and school on more than one occasion. This way parents are able to see the school in various situations and fully appreciate all that we can offer their child.
The Headteacher and Nursery Manager are happy to meet with prospective parents and individual appointments can be arranged throughout the academic year. Parents receive a personal tour of the school where they will see children and staff going about their normal school routines. Some parents bring their children with them while others prefer to make the first visit on their own and return, with their children, at a later date.
*NEW* Drop-in Workshops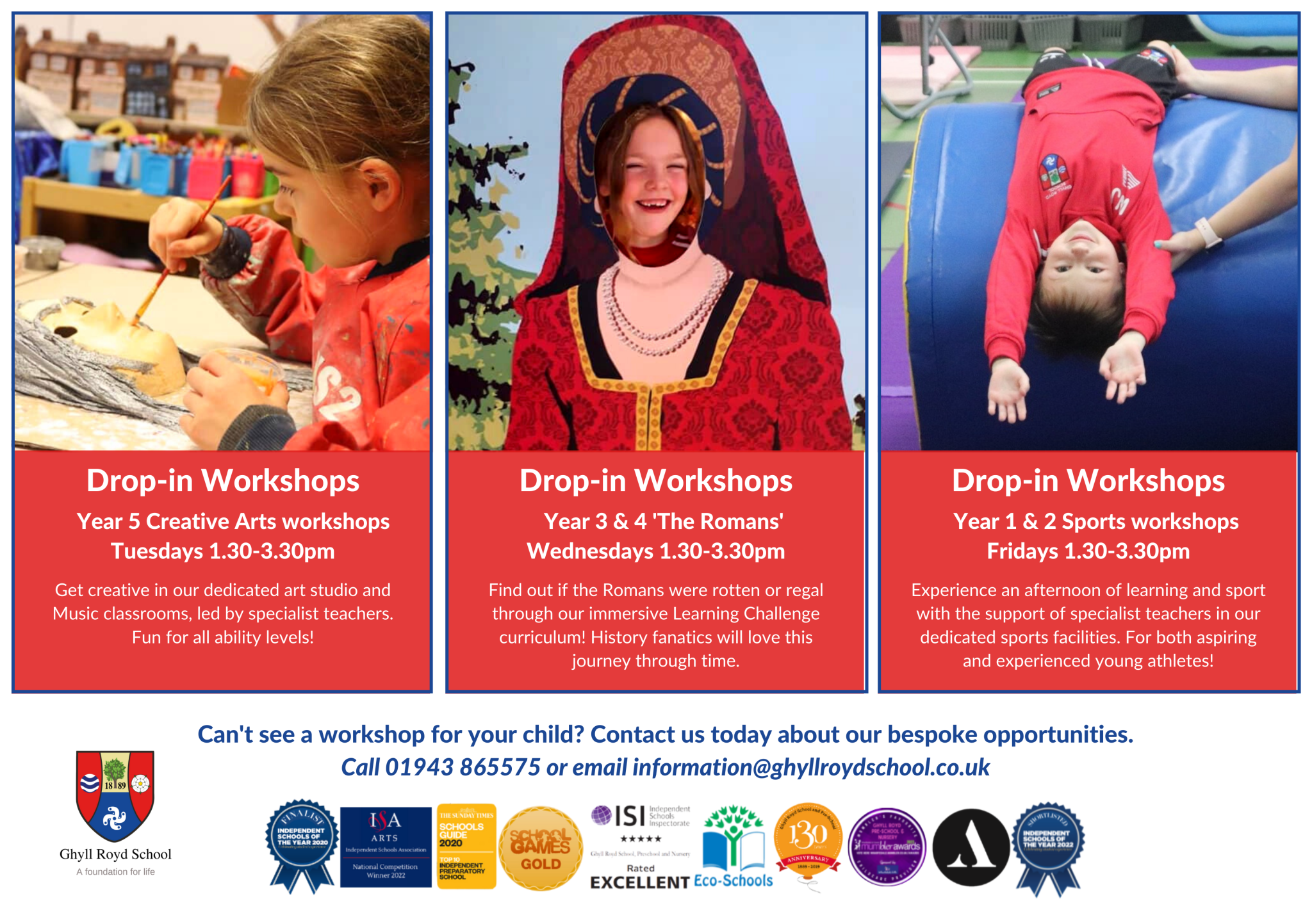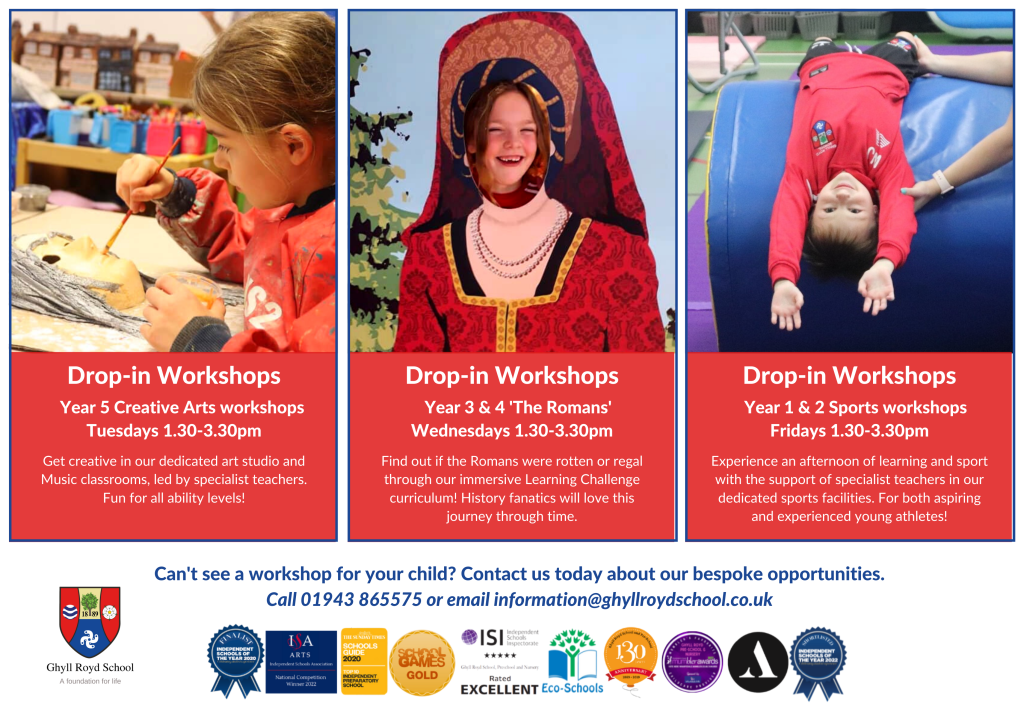 Your child is invited to get a first taste of Ghyll Royd School life through our dedicated drop-in workshops.
Ran by our specialist teachers who have a real passion for their subjects, our lessons stimulate children to independently explore topics to instil confidence and a love of learning.
The drop-in workshops are the perfect opportunity for families who are looking at joining Ghyll Royd School.
Parents can enjoy a visit with Mr Martin alongside their visit to see the facilities and see why Ghyll Royd has been rated 'Excellent' in all areas by the Independent Schools Inspectorate.
Join us for:
Year 5 Creative Arts – Tuesdays, 1.30-3.30pm
Get creative in our dedicated Art studio and Music classrooms, led by specialist teachers. Fun for all ability levels!
Year 3 & 4 'The Romans' – Wednesdays, 1.30-3.30pm
Find out if the Romans were rotten or regal through our immersive Learning Challenge curriculum! History fanatics will love this journey through time.
Year 1 & 2 Physical Education – Fridays, 1.30-3.30pm
Experience an afternoon of learning and sport with the support of specialist teachers in our dedicated sports facilities. For both aspiring and experienced young athletes!
We also run bespoke workshops based on your child's interests. Talk to us today about the opportunities available and to book your visit. Contact the school office on information@ghyllroydschool.co.uk or call 01943 865575, or fill in your details with our Contact Us form.
Taster days
We encourage parents to arrange taster days for their children when they can experience a full day in the classroom, on the sports field and sample a typical lunch at Ghyll Royd. For some children it may be beneficial to have more than one taster day prior to entry to ensure a smooth transition.
Children may attend taster days in the Pre-Prep and Prep departments of the school at any point through the school year. Taster days offer children the opportunity to get to know other children in their year group and to experience a normal school day which may include a mix of academic lessons, art, drama, music and sport.
We also offer taster sessions to children aged 2 to 4 year olds in the Pre-School and Nursery. The sessions give children the opportunity to explore some of the activities and specialist lessons on offer and to access some areas of the Foundation Stage Curriculum. Parents may stay with their child during these taster sessions until they feel their child is ready to be left. Prior to a child joining the Nursery, we offer two 2 hour settling in periods, free of charge, to ensure children feel safe and secure within their new environment.
For more information about arranging taster and settling in sessions please contact the Sarah in the school office who can help in choosing an appropriate day that would most suit your child. If you would like more information please call our school office on 01943 865575.
ga('create', 'UA-97947786-1', 'auto'); ga('send', 'pageview');