After a week of SATs exams in their final year at Ghyll Royd, Form 6 enjoyed a wide range of trips and activities as part of the annual Year 6 Enrichment Week. Each day of the week involved at least one activity, rounded off with a four-day weekend residential at Robin Hoods Bay.
Enrichment week was a collaborative effort with ideas from the children and teachers to find out what kind of activities they would like to take part in.
Monday – Manjushri Kadampa Meditation Centre
The Ghyll Royd minibuses set off from school on a 2-hour journey to Ulverston in Cumbria! Once we had arrived, we were greeted by Geoff, a teacher at the centre. Geoff showed us around the beautiful grounds of Conishead Priory before we went in to the Buddhist Temple. We took off our shoes and sat down on the floor at the front. Geoff taught us simple meditation techniques to relax and focus. We then asked Geoff questions about the Buddhist religion. He showed us the different forms of Buddha in a glass cage behind the area where the teacher sits. When we left the temple, we sat outside on the wall to take a look at it. It was magnificent, the gold shining brightly in the sunshine.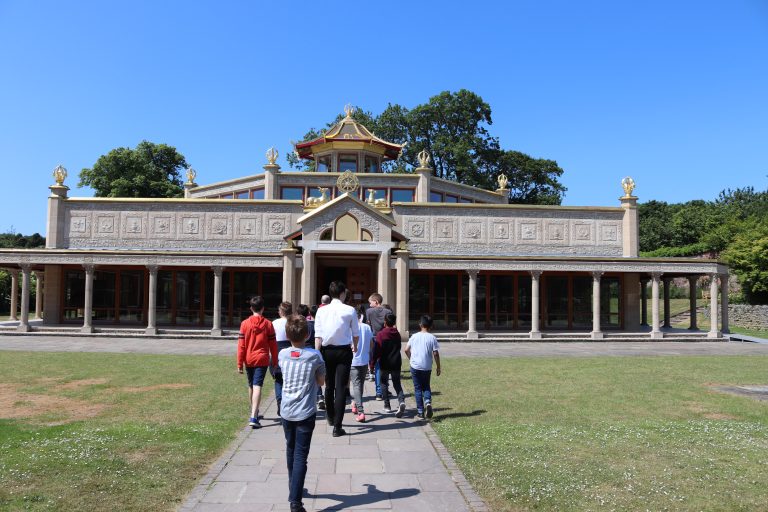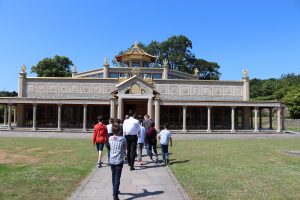 Tuesday morning – Pizza Express
We had our own personal tour of Pizza Express on Tuesday morning with Kate from the Ilkley restaurant. We saw how everything was stored and kept safe and clean. We made our own pizzas, tossing the dough in the air, then covering with tomato sauce and mozzarella cheese. We added optional garlic, chilli and tabasco at the end and took them back to school. We learnt all sorts about the business and how it was created. Did you know that owner Peter Boizot flew a Sicilian chef and a pizza oven from Naples over to London to open up the first Pizza Express in London in 1965? He loved pizza so much and couldn't find anything as good back in the UK so decided to change that!
Tuesday afternoon – Bradford Grammar School
Following on from the Ilkley Carnival cover competition, Evie had won the chance to take her class to Bradford Grammar School for a special art workshop. Using marble ink submerged in water we made groovy patterns. Then by carving fruit shapes out of polystyrene, we created prints of fruit in bold colours. The pictures look great and we enjoyed getting a taste of things to come when we start secondary school in September!
Wednesday morning – Bolton Abbey
We dove right in to our next activity – literally! With our swimsuits on, we jumped into the river at Bolton Abbey and had a fun time splashing around with our friends. We hopped across the Medieval stepping stones and had a great time. We ate our lunches on the beach with Mr Martin, Mr Coleman and Mrs Ellis.
Wednesday afternoon – Billy Bob's Ice-Cream Parlour
In the afternoon we took a trip to Billy Bob's Ice Cream Parlour and had lots of amazing flavours! The weather was great, so we sat outside.
Thursday morning – Jump Arena
On Thursday morning we went to Kirkstall and had the whole arena to ourselves! We had gladiator fights, played dodgeball and bounced around the giant trampoline park. Verity could do flips and we had a competition to see who could bounce the highest!
Thursday afternoon – Farriers
Mr Fawcitt kindly allowed us to visit his farm where he works as a farrier. He demonstrated how he makes and fits a horseshoe. We had lots of questions for him and stood a safe distance away from the heat and equipment. It was great to watch and we got to meet one of his horses.
Friday – Robin Hood's Bay
Today was the day! We packed our bags for a full weekend at the seaside. We arrived in Filey and had some rock and sweets. Then we changed some money to go on the amusement arcades on Filey seafront. We played shooting games, car games, went on the horses and also on the two pence machines.
We had dinner that night in the school house and were too excited to sleep! The next day, after a fully cooked breakfast, we went to Alpamare swimming centre where we could go on all the slides. Then we went on to Peasholm Park where there was so much to do. Some of us went up high into the trees on a treetop adventure; some of us went on pedalos on the lake and the rest of us faced off in a zorbing challenge on the water! You'd think that would have tired us out – but we were still wide awake from the adrenaline of a brilliant day! Three of us went on a ghost walk and found out stories about Robin Hood's Bay.
On Sunday we went to Whitby and played rounders on the beach. It was Father's day and Ava's birthday so we had a celebration with a giant Millie's Cookie Cake and presents. We had a great adventure and arrived back in Ilkley on Monday afternoon.
Thank you to Mr Martin, Mr Coleman, Mrs Ellis, Mrs Downes and Miss Smith for taking us on such a wonderful week of adventures!
Conveniently situated on the A65 between Ben Rhydding, Ilkley and Burley in Wharfedale, Ghyll Royd School, Pre-School and Nursery is ideally located for families living in or commuting to the surrounding cities, towns and villages of Ben Rhydding, Ilkley, Burley in Wharfedale, Addingham, Menston, Guiseley, Baildon, Bingley, Otley, Leeds, Bradford, Harrogate, Skipton and Keighley.