Children, parents and grandparents got involved in Ghyll Royd School's wellbeing week! The events were in the run up to Children's Mental Health Week from 7th-11th February. All ages took part in a variety of activities aimed at supporting their own and other's mental health.
Pupils at the independent school took part in the wellbeing week which included yoga, laser tag and mindfulness sessions. The children also contributed to three different charities through their participation in the week.
Need for mental health support
A 2021 published NHS survey found that one in six children aged 5-16 have a probable mental health problem. This is an increase from one in nine in 2017. As a result of almost two years of lockdown restrictions, there is a growing need for more mental health support in schools. Five teachers at Ghyll Royd School and Pre-School recently passed a Level 3 course in Supervising First Aid for Mental Health in the workplace.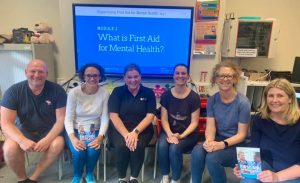 Wellbeing Week
Firstly, to start the wellbeing week, parent Mrs Carson opened up her Monday mindfulness club to all children. The classes practised breathing techniques and wellbeing exercises in a fun, child-friendly manner. Ali Morpeth Nutrition gave an insightful talk to parents, downstairs in the dining hall. In addition to tasting Chef Dave's food, Ali answered parents questions on nutrition.
Ghyll Royd children also enjoyed a MiniMe Yoga session with local sports provider SportsCool Leeds North.
Children in the Pre-School and Nursery classes were some of the first in the area to experience Izzy Bizzy Toddler Yoga – a new class starting in Burley-in-Wharfedale in March.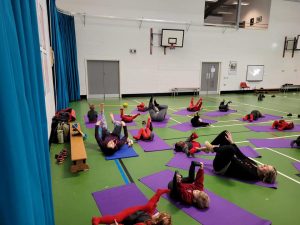 Local holiday camp United Education also visited their Ilkley base to deliver a laser tag activity for a Wednesday wellbeing treat, transforming the school's sports hall into a battle arena.
2022 Challenge
Pupils had the opportunity to choose their own activities in a 2022 Challenge set by Ghyll Royd's PTA. The aim was to raise £20.22 for the school's new playground equipment, by challenging themselves or helping others.
2022 Challenges were chosen by the children. For example:
Siblings Samuel and Jessica sang to their neighbours
Oscar in Reception picked litter
Charlotte in Year 2 made breakfast for her mummy
Amadeo sorted some toys /books to donate to charity
and Henry and George walked a friend's dog.
The school had an overwhelming response for donations of clothing, food and toiletries for Homeless Not Hopeless – a Bradford charity offering practical support. Parent and volunteer, Soraya Smith, visited Ghyll Royd during wellbeing week to encourage children and parents to donate.
Ghyll Royd grandparents joined in for the final part of Children's Mental Health Week. They spent the morning in class, taking part in Music, Spanish and Gymnastics. They joined their grandchild for a bake sale, which raised over £117.00 for Place2Be – a children's mental health charity, and organisers of Children's Mental Health Week.
"We wanted a variety of activities to reflect the different ways we improve wellbeing"
Deputy Headteacher and co-organiser of Wellbeing Week, Hadley Nicholson, said: "We had the idea to organise a wellbeing week in the run up to Children's Mental Health Week to provide activities that complemented the school's successful mental health initiatives. We wanted a variety of activities to reflect the different ways we improve wellbeing: exercise, diet, social, games etc. and the week was a resounding success among staff, pupils and parents."
Children's Mental Health Week is in its seventh year, organised by children's mental health charity Place2Be who provide support in schools.