Pupils at Ghyll Royd Primary School in Burley-in-Wharfedale virtually got together to celebrate VE Day this week. Due to the school's own celebrations being cancelled, the staff at Ghyll Royd wanted to boost morale within the school community by working together on a musical project.
The children and teachers were asked to record a line from the war time classic 'We'll Meet Again' by Vera Lynn which has been compiled into an amusing and jolly music video celebrating 75 years since Victory in Europe was declared.
Over forty videos were sent in, with some choosing to decorate their homes with bunting, some wearing 1940s style clothing and one pupil wearing their grandad's war medals. Headteacher David Martin, school secretary Gilly Downs joined in with pupils as young as two to former pupils joining in with their younger siblings. The video's message is intended to celebrate the 75th anniversary of the War in Europe ending, but is also relevant to our current situation with schools across the nation being forced to close for the first time since World War II.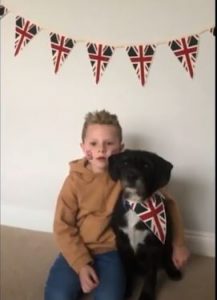 Ghyll Royd School and Pre-School has been physically closed since Friday 27th March due to the government-enforced lockdown, but has been providing online lessons and activities including weekly Music lessons, draw-along art activities and daily Maths and English lessons. The full curriculum is being provided online, with PE support from The Body Coach Joe Wicks's 'PE With Joe'.
David Martin, Headteacher at Ghyll Royd, said: "We are missing our families lots. We are based in a very supportive and caring community and our school is one that is seen as a welcoming and friendly place. We are three weeks in to remote learning and the children have worked incredibly hard – impressing me and their teachers with the way they have adapted to this 'new normal'.
"It is a difficult time for families right now, which makes the project's lyrics even more poignant. We have supported families whose children are too young to understand why they cannot see their grandparents and friends and we hope that joining in with this project helped them understand that this is not a permanent situation.
"Although we are fortunate to not have lived through the events of the Second World War, we must ensure we are able to uplift and support our families through this lonely and mentally testing time. We will meet again, we do know where but we don't know when! We had great fun making the music video and want to share our VE Day celebrations with the nation!"
The School has shared the video on social media and has an additional activity pack for children wanting to learn more and celebrate the anniversary. Enjoy our video and activities!