Forms 5 and 6 have created their very own kilts with Mrs Smith in their Art lessons this term. With the help of the wonderful Mrs Cook, the children have created these brilliant garments which they kindly modeled for us afterwards!
The kilts were made in the children's Art lessons to coincide with their focus on the Stuarts in their learning challenge this term. Each child was given a piece of lino to carve and create lines in which they then used as a printing block. They dipped the lino in paint and made their first print on their fabric. Each print needed to match up to create straight, continuous lines. Once they had finished printing in one direction, the children had to start then turn their printing block 90 degrees, use a different colour paint and print across their kilts again to create the tartan look.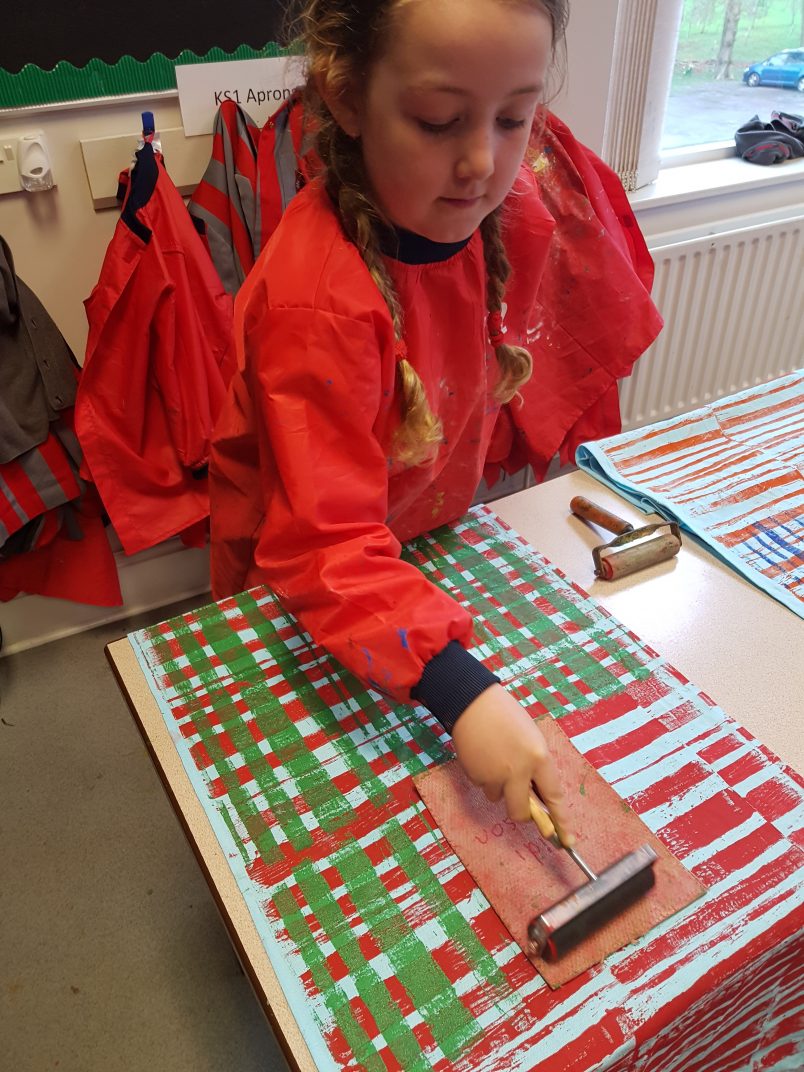 Finally, with the help of Mrs Cook, the children learnt how to use a sewing machine to stitch pleats into their kilts. Here they are with their finished pleats in a mini photoshoot in the woodland area of Greystone Manor:
Textiles is the latest addition to the expanding creative arts curriculum at Ghyll Royd. Forms 3 and 4 created some fabulous embroidery work in their lessons this term and Forms 1 and 2 produced a gorgeous giant felt mural which will hang in the entrance to Greystone Manor for all to see from next term.
Thank you to Mrs Smith for your always innovative and exciting Art projects that the children really engage with and enjoy. Thank you to Mrs Cook for your help. Well done to Forms 5 and 6 on your wonderful work. See all the pictures on our Facebook page.
Conveniently situated on the A65 between Ben Rhydding, Ilkley and Burley in Wharfedale, Ghyll Royd School, Pre-School and Nursery is ideally located for families living in or commuting to the surrounding cities, towns and villages of Ben Rhydding, Ilkley, Burley in Wharfedale, Addingham, Menston, Guiseley, Baildon, Bingley, Otley, Leeds, Bradford, Harrogate, Skipton and Keighley.