Textiles lessons began this term for Forms 3 and 4. Miss Smith has been busy updating and developing Ghyll Royd's creative curriculum with different art forms including pottery, textiles, digital art and more!
Forms 3 and 4 used a technique called monoprint to print their poppy designs on cotton. Once dry, pupils have been learning all about the different stitches through step-by-step guidance. Miss Smith and volunteer Mrs Cook have been teaching pupils individual techniques from running stitch to back stitch and blanket stitch. The children practiced the stitches before decorating their prints with what they had learnt.
The children embroidered the leaves and sewed around the petals to create beautiful 3D, textured artwork. The colours in the printwork stand out and the stitching on each piece looks beautiful and carefully done. Our children are sew talented!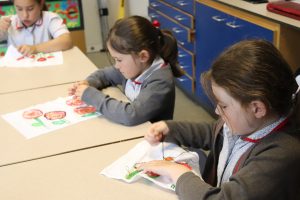 Conveniently situated on the A65 between Ben Rhydding, Ilkley and Burley in Wharfedale, Ghyll Royd School, Pre-School and Nursery is ideally located for families living in or commuting to the surrounding cities, towns and villages of Ben Rhydding, Ilkley, Burley in Wharfedale, Addingham, Menston, Guiseley, Baildon, Bingley, Otley, Leeds, Bradford, Harrogate, Skipton and Keighley.