In Great Explorers we are learning about pets, how we look after them and what sort of animals we keep in our homes.
We met some wacky and exotic animals last week when Sam's Safaris came to visit, and this week we met two lovely dogs! Miss King brought in Holly the Dachshund for us to meet and stroke. We were so excited to have a dog in our classroom! We had been taught beforehand to use very gentle hands, and to speak quietly to not frighten Holly. Aaron said Holly was 'lovely' as he stroked her. Wilf and Toby could not stop smiling! We even had a toy that looked just like Holly. She sniffed at it, curious at the miniature version of herself staring back at her.
On Monday, we had another furry friend visit – this one was much bigger than Holly the little Dachshund – it was Miss Coutlon's dog Jenson the Chocolate Labrador! He was like a big, cuddly teddy bear who was very soft and gentle. He just sat there as we approached to stroke him and was happy to get such a fuss! We even had a few dog treats that we took in turns feeding him using a flat hand. Charlotte LOVED Jenson and she got a big hug from him. We all held a bit of his lead and walked him around our playground.
It was brilliant meeting our teacher's dogs, we even met Mrs Johnson's dog on a walk round Middleton Woods, where we saw lots of other dog walkers. This has been a great learning topic where we have found out about the different breeds of dogs, which ties in well with our next project looking at Chinese New Year and the Year of the Dog!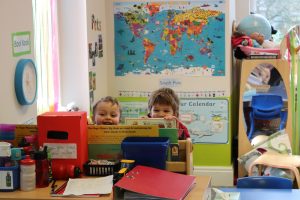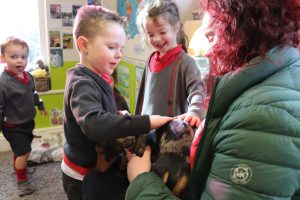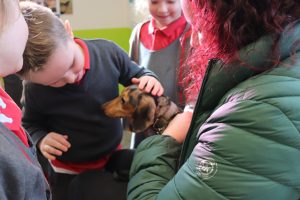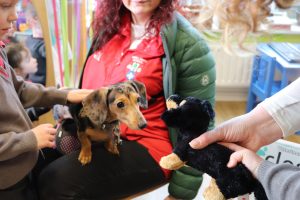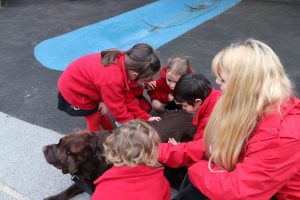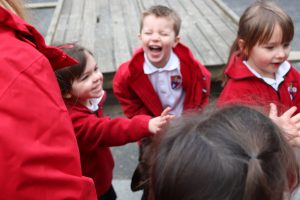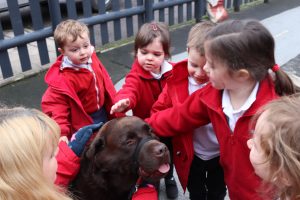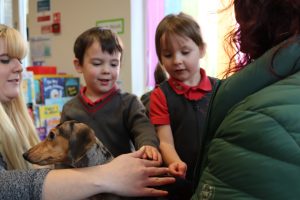 Conveniently situated on the A65 between Ben Rhydding, Ilkley and Burley in Wharfedale, Ghyll Royd School, Pre-School and Nursery is ideally located for families living in or commuting to the surrounding cities, towns and villages of Ben Rhydding, Ilkley, Burley in Wharfedale, Addingham, Menston, Guiseley, Baildon, Bingley, Otley, Leeds, Bradford, Harrogate, Skipton and Keighley.