Children from our Little Adventurers class all the way up to Form 2 performed the annual Nativity play on Tuesday evening. Teachers, parents and grandparents gathered in the school hall to enjoy a hot drink and a mince pie before the show commenced. This year's Nativity was called 'Christmas Counts' which begins with a group of census takers carrying out Caesar's orders to count all the people and animals in Bethlehem.
Our Little Adventurers and Great Explorers were adorable in their sheep costumes, and sang beautifully. This year's Nativity will have been the first time on stage for many of our children, a rather daunting thought, but they were composed, they sang beautifully, and their smiles beamed as they spotted family members in the audience. Well done to all our Early Years. Ewe were fantastic!
Reception had a very important task of following the star as the three wise men and their camels. The children rode to Bethlehem to deliver their gifts to baby Jesus.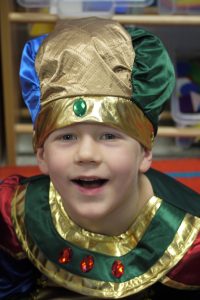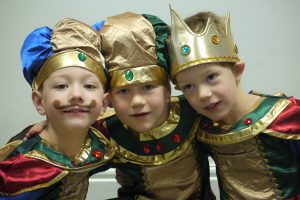 Gabby and George in Form 1 played the parts of Mary and Joseph and spoke loudly and confidently, remembering their many lines. Children in Form 1 and 2 were narrators, census-takers, shepherds, and innkeepers completing the performance with their excellent dance moves, their clear voices and their fabulous costumes. Well done to all our children for your great performances. Thank you to Mrs Downes, our Director; Mrs Coultas, our Musical Director; and to all Early Years and Key Stage One staff who supervised rehearsals and helped put on a fantastic show!
We are raising money for our 'Theatre of Dreams' tiered seating which aims to enhance the viewing experience for parents and visitors to our termly events. Thank you to parents and grandparents for your overwhelming generosity last night. With your help we raised £255.55 last night which pays for one seat! If you would like to donate or sponsor a seat, please visit our Fundraising page.
We are also selling DVDs from our Nativity for £10.00 each. Each DVD purchase will go towards our fundraising goal, and will be a lasting Christmas gift for all the family to enjoy! To purchase your DVD please contact the School Office by Friday afternoon.
Thank you in advance.
Conveniently situated on the A65 between Ben Rhydding, Ilkley and Burley in Wharfedale, Ghyll Royd School, Pre-School and Nursery is ideally located for families living in or commuting to the surrounding cities, towns and villages of Ben Rhydding, Ilkley, Burley in Wharfedale, Addingham, Menston, Guiseley, Baildon, Bingley, Otley, Leeds, Bradford, Harrogate, Skipton and Keighley.