The man with the best seat on the coach talks getting the best seat in the theatre!
Coach Trip tour guide Brendan Sheerin visited Ghyll Royd School to unveil the 'Theatre of Dreams' – a fundraising initiative for retractable tiered seating in the school's multi-purpose hall.
The Channel 4 favourite and pantomime actor also visited Greystone Manor to talk to the pupils about his time working in television and theatre.
He coached boys and girls in Key Stage Two on pursuing careers in tourism and the performing arts through studying modern foreign languages and drama, both of which are included in Ghyll Royd's extensive curriculum.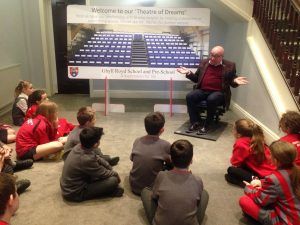 Brendan was then in the hot seat as pupils asked him a series of questions about his life and career. He sat on a replica theatre seat in the school foyer which is part of Ghyll Royd's latest fundraising initiative the 'Theatre of Dreams'.
The School hope to raise funds through donations and sponsors which will enhance viewing for performances and sporting events.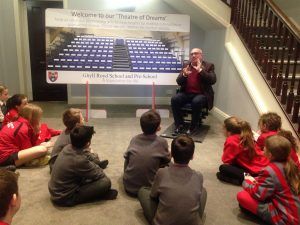 Asked about the importance of getting a good seat, the famous tour guide said: "I always appreciate a good seat as it enhances people's enjoyment of any performance."
Head Teacher David Martin commented: "It's fantastic to welcome a local personality to our school to unveil our new fundraising initiative. The tiered seating, alongside our newly appointed Drama Teacher, will help produce magnificent performances that the children can be proud of."
The school hope to raise £32,500 and are giving parents, and the local community the opportunity to sponsor a seat with wording of the sponsor's choice inscribed on the back, to be part of the future of Ghyll Royd forever.
To purchase a seat, or to make a contribution contact Ghyll Royd School on 01943 865575.