Great Explorers and Reception took a trip to the moon following on from their visit to see Tim Peake's Spacecraft earlier in the month at Bradford Science and Media Museum. The children welcomed visitors to join in as they read and explored the story of 'Whatever Next' by Jill Murphy for their Story Time Play Date event.
We painted pictures of rockets and stars in the sky in the classroom, before sitting down to read the story with Mrs Johnson. 'Whatever Next' is about Baby Bear who wants to go to the moon before bath time. Mummy Bear starts running the bath which gives him enough time to collect supplies for his trip. On the way he meets an owl who joins him for a picnic on the moon!
After story time, it was time for our mid-morning snack, and what better place to have our snack than on the moon! We went outside and put out a picnic blanket then sat down to have a drink, some fruit and a fairy cake. We talked about what kind of things we would take to the moon and were asked to bring something in. George in Reception brought his toothbrush!
We brought out the rockets we had made earlier in the week to take our teddies on a trip to the moon! We had our own rockets and little cardboard box rockets for our teddies…however, we also tried fitting in the smaller boxes!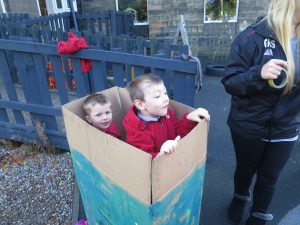 We had lots of fun on Friday morning, and when we looked up at the sky, we saw the real moon. We waved to Baby Bear and the Owl who were up there having their picnic.
Thank you to our friends for coming to visit us and play along with the story 'Whatever Next'. The Story Time Play Date is part of an event series which encourages outdoor learning and building friendships. The Play Dates will run once a term for 3-5 year olds. Our 'Stay and Play' sessions run every Friday during term time for 18 months – 4 year olds. For more information, visit our 'Stay and Play' page.
Conveniently situated on the A65 between Ben Rhydding, Ilkley and Burley in Wharfedale, Ghyll Royd School, Pre-School and Nursery is ideally located for families living in or commuting to the surrounding cities, towns and villages of Ben Rhydding, Ilkley, Burley in Wharfedale, Addingham, Menston, Guiseley, Baildon, Bingley, Otley, Leeds, Bradford, Harrogate, Skipton and Keighley.