There were spooky goings on here at Ghyll Royd School over October as the children celebrated Halloween.
The boys and ghouls enjoyed a menacing mixture of activities on Tuesday 17th October, co-organised between teachers and the PTA. Everyone made a fangtastic effort dressing up as witches, Wednesday Addams, zombies, villains and more, including an inflatable T-Rex!
Down in Early Years, our children enjoyed potion making and pumpkin decorating before a terrifyingly tasty lunch.
Mr Martin set up the Haunted Headteacher's Hunt, scattering pictures and letters around the grounds for the children to find. They pieced together the letters one by one to eventually reveal a secret word.
Creepy Creativity
In our Arts department, Mrs Evans was impressed with the spooky music journeys the children in Forms 1 and 2 made. They chose the landscape and the instruments which took the listener through a graveyard, spooky swamp and ghost train. The instruments created a creepy yet clever soundtrack once the children had been around the room.
With Miss Smith, Forms 2-4 made their own self portraits in the style of animator Tim Burton. Children focused on the elongated features and the big, sunken-in eyes to create their own pictures.
In Forms 3-6, each child decorated a pumpkin using an eerie array of craft materials. The finished jack-o'-lanterns were so unique, varying from the traditional face to replicas of the children's own costumes.
Menacing Menu
Chef Dave served up a devilishly delicious menu of Spaghetti with Eyeballs followed by Headless Gingerbread Men. Chef loves being able to get creative with his menu and as a result, the children thoroughly enjoyed their ferocious feast.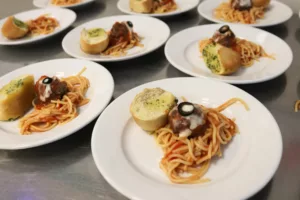 The PTA had the Sports Hall ready for an afternoon of dance as all years enjoyed the Halloween Disco. Children and teachers bopped along to horror hits such as Thriller and the Ghostbusters theme, as well as chart and Disney favourites.
Ghyll Royd knows how to put on a party! Thank you to DJ Katie from Tots to Teens Mobile Discos and also to the PTA for the tunes.