Together with the nation, we were saddened to learn of the news of the passing of Queen Elizabeth II last week.
Earlier this year we celebrated the Platinum Jubilee with our Baked Britain cake and picnic party. Mrs Hudson visited London on the week of the Jubilee to hand deliver letters from our Form 1 class to one of the Queen's guards.
Just days before learning of her passing, a letter arrived from the Queen, thanking Ghyll Royd pupils for their messages. We feel honoured to have received a reply from the Queen, signed by her Lady in Waiting.
The letter read:
"To Pupils at Ghyll Royd School & Preschool The Queen wishes me to write and thank you for the letters and pictures which you sent to Her Majesty on the occasion of her Platinum Jubilee.
The Queen was glad to hear from you and, although was unable to reply to you personally, Her Majesty greatly appreciated the nice things you said.
Please accept my apologies for the delay in response; I am sure you will understand, The Queen has received a large volume of post in recent months and, as a result, it has not been possible to reply to you until now.
I am to thank you again for your messages of good wishes to Her Majesty in this, her Platinum Jubilee year.
Annabel Whitehead
Lady-in-Waiting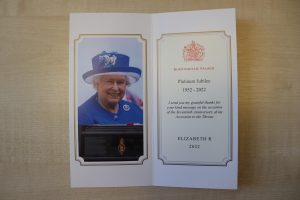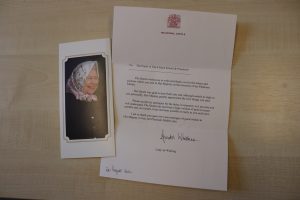 Last year's Reception class sent the Queen messages, pictures and questions about what it was like being a monarch. The reply was a delight to receive, and is the second time the class had received a reply from someone so well regarded. Earlier in the school year the children wrote letters to astronaut Tim Peake to which they received a reply.