Year 6 enjoyed a trip to the Henry VII Experience in York last week to learn about Crime and Punishment in the Tudor times! Their Learning Challenge questions for the Autumn term are 'How did the Tudors shape modern Britain?' and 'Which Tudors were the most terrible?'.
The class, Miss Gresswell and Mrs Ellis drove to the Park and Ride and hopped on a bus into York City Centre. When they arrived, they met a man in Tudor dress who took them to the Richard III and Henry VII Experience.
Henry VII was the first Tudor King of England and reigned for 24 years. He began his reign after defeating Richard III at the Battle of Bosworth.
The Workshop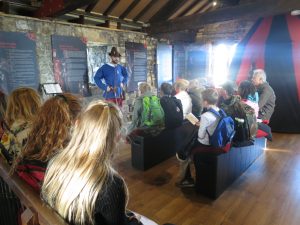 Form 6 arrived at the Henry VII experience for an interactive workshop on punishment. The class talked about different crimes and the museum staff revealed what gruesome and terrible punishments people would endure for their wrongdoings.
There were no police during the Tudor times. It was believed that severe and painful punishment would stop the criminal from re-offending and deter others from committing crimes. Museum staff tried Form 6 for their crimes. For nagging, Miss Gresswell was dunked in water. Similarly, drowning was a punishment for people accused of using witchcraft. One pupil was made to eat their own poison because they had been found guilty of poisoning others. Another had one arm and one leg cut off because they were found guilty of heresy.
A great day out!
You will be relieved to know that the children were rewarded, not punished, for their behaviour! As a result of representing Ghyll Royd so wonderfully, the class were rewarded with milkshakes! Before heading back to school, the class walked along York's City Walls.
Thank you to the staff at the Henry VII Experience for your hospitality and for making the trip very exciting and educational. Admission to the museum is free for children.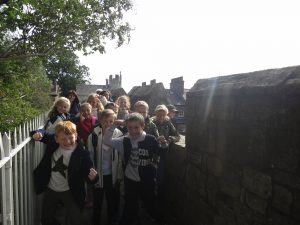 Conveniently situated on the A65 between Ben Rhydding, Ilkley and Burley in Wharfedale, Ghyll Royd School, Pre-School and Nursery is ideally located for families living in or commuting to the surrounding cities, towns and villages of Ben Rhydding, Ilkley, Burley in Wharfedale, Addingham, Menston, Guiseley, Baildon, Bingley, Otley, Leeds, Bradford, Harrogate, Skipton and Keighley.