Forms 1 and 2 got creative thinking about what Ghyll Royd School means to them. They felt that school was a fun place where they had lots of time spent outdoors, both learning and playing. Together with Art teacher Mrs Smith and volunteer Mrs Cook, the classes have created a giant feltwork reflecting life at Ghyll Royd. The piece is made up of four sections: Autumn, Winter, Spring and Summer divided up by trees. The writing around the edge of the feltwork reads: "Whichever the season, whatever the weather, every day is an outdoor learning day here at Ghyll Royd School."
The class cut out pieces for the feltwork and each worked on a different area of the piece from Autumn through to Summer. The pieces were then assembled onto the backdrop ready for the next step. Using squirty bottles of warm, soapy water, pupils wet the felt which helps it bind together. In their penultimate art lesson, the artwork was taken outside rolled up in bubble wrap. The classes worked together to roll the giant feltwork up and down the playground which helps the fibres stick to one another. It was tough work but it paid off, creating a beautiful giant feltwork for all to admire. Well done Forms 1 and 2!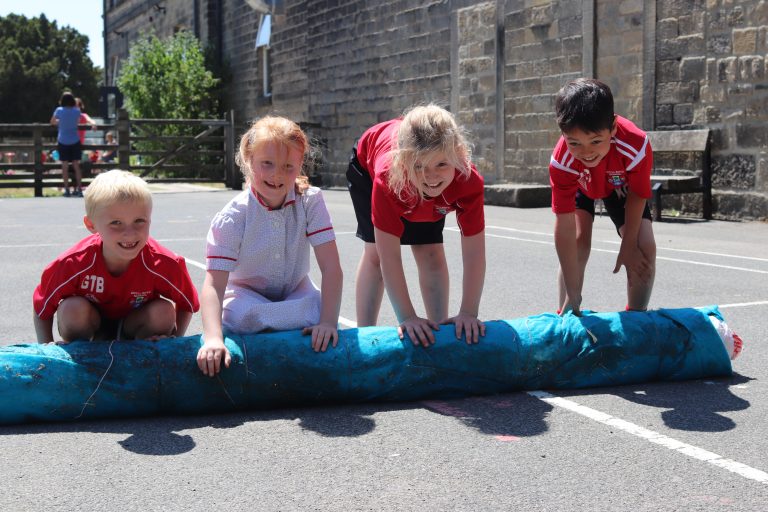 Where do you think we should display this wonderful piece of art?
Conveniently situated on the A65 between Ben Rhydding, Ilkley and Burley in Wharfedale, Ghyll Royd School, Pre-School and Nursery is ideally located for families living in or commuting to the surrounding cities, towns and villages of Ben Rhydding, Ilkley, Burley in Wharfedale, Addingham, Menston, Guiseley, Baildon, Bingley, Otley, Leeds, Bradford, Harrogate, Skipton and Keighley.