Pupils, parents, grandparents and staff rocked out at Ghyllstonbury last month. Ghyll Royd School held a one-day festival on the school grounds in Burley-in-Wharfedale. Three giant teepee tents stood on the grounds of Greystone Manor welcoming families from the school and local community. Ghyllstonbury Festival was organised as an end of year celebratory fundraising event which raised money towards the school's tiered seating for performances and events.
Guests arrived to a welcome drink from the fully stocked bar, featuring beers from Wharfedale Brewery, and to a stunning performance by Ghyll Royd's own Maddie Holland. Everyone was lining up to have their flower power festival faces painted by Art teacher Miss Smith, Miss Gresswell and Mrs Watson. The delectable smell of the barbeque filled the air with Chef Sean at the helm serving burgers and hotdogs.
Everyone had a fantastic day dancing, singing, drinking, eating, partying and enjoying the day's festivities. We even had royal visitors Harry and Meghan pay a visit after their wedding(!)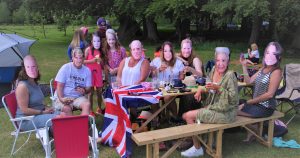 Thank you to Councillor Anne Hawkesworth who joined us to cut the ceremonial ribbon; to all staff for working on a Saturday; to BarEventsUK for allowing us to use the fantastic, spacious teepees; to Ghyll Royd parent Paula McKie for offering her time and expertise to help plan and organise such a brilliant day; to the many acts we had entertain the crowds and to all our guests who through ticket sales, food and drink helped us to raise £2,500 for our 'Theatre of Dreams'! That's 10 more seats towards our target! We hope you all had fun.
A full selection of photographs can be viewed on our Facebook page.
Conveniently situated on the A65 between Ben Rhydding, Ilkley and Burley in Wharfedale, Ghyll Royd School, Pre-School and Nursery is ideally located for families living in or commuting to the surrounding cities, towns and villages of Ben Rhydding, Ilkley, Burley in Wharfedale, Addingham, Menston, Guiseley, Baildon, Bingley, Otley, Leeds, Bradford, Harrogate, Skipton and Keighley.