Form 3 experienced life during World War II in Mr Laycock's classroom on Wednesday. Pupils went back over 80 years to understand what life was like in the late 1930s during the outbreak of the Second World War.
Mr Laycock wrote the class an itinerary to prepare them in the event of an air raid. Firstly, the children made their own gas masks made of paper and string. They cut out eye and mouth holes then attached the string to the mask, making sure it was tight enough to not slip off their face.
Next, pupils had to blackout the classroom windows. Reuben said, "We blackout the windows so that the pilots and bombers can't see the light and see where people might be living." Georgie added: "We then taped up the windows to stop the glass from shattering and to make them bombproof."
Next to prepare were the children's ID cards. Every person was to carry around an ID card with their details and a picture on it in case they were injured and could easily be identified. Pupils filled in their names and addresses then drew a picture of themselves on the front.
Form 3 then sat and listened to Mr Laycock explain the different types of bomb shelters and how they worked to protect people in the event of an air raid attack. He showed the class an Anderson shelter and a Morrison shelter. The last part of the lesson was for assembling a shelter using tables, chairs and blankets. Pupils showed great teamwork in assembling the tables together, covering the tops with blankets, and then sat back down to listen for the next instruction.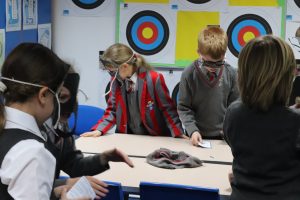 An air raid siren blasted out of the classroom speakers and the children all had to get into the shelter to prepare for attack. They helped each other with their gas masks and ID cards and hid under the tables. They stayed under the tables until they heard the all clear siren and emerged.
The children enjoyed this immersive, interactive lesson and had lots of questions at the end. Next week, they'll be moving on to learn about the Blitz, and in a few weeks, they will head to Eden Camp with Form 4.
Conveniently situated on the A65 between Ben Rhydding, Ilkley and Burley in Wharfedale, Ghyll Royd School, Pre-School and Nursery is ideally located for families living in or commuting to the surrounding cities, towns and villages of Ben Rhydding, Ilkley, Burley in Wharfedale, Addingham, Menston, Guiseley, Baildon, Bingley, Otley, Leeds, Bradford, Harrogate, Skipton and Keighley.