The first school assembly of 2018 was all about friendship.
Mr Martin spoke about the value of friendship and how to be a good friend to others. With new starters joining us this term, the children have new friendships to make and can welcome these new pupils to Ghyll Royd with open arms.
Mr Martin then played the John Lewis 2018 Christmas advert featuring Moz the Monster. In the video, Moz plays with his new friend Joe, playing Battleships and Scalextric in the middle of the night. Joe starts falling asleep through the day which concerns his Dad. Moz also sees Joe looks tired so decides to be a good friend and selflessly stops playing with Joe every night to let him get some rest.
Through this lesson of being a good friend and letting them do what makes them happy, we can all try new things that our friends might like to do, that we have not always been interested in doing ourselves. It could lead to closer friendships, learning a new skill, or just simply having fun.
Mr Martin is challenging pupils to have a Moz Moment, where they act as a good friend to someone else. He will be awarding house points and commendations to pupils who show a good act of friendship to encourage pupils to bond and work with their peers.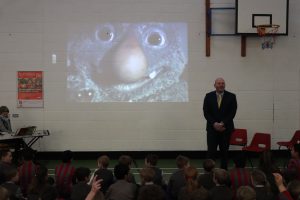 Conveniently situated on the A65 between Ben Rhydding, Ilkley and Burley in Wharfedale, Ghyll Royd School, Pre-School and Nursery is ideally located for families living in or commuting to the surrounding cities, towns and villages of Ben Rhydding, Ilkley, Burley in Wharfedale, Addingham, Menston, Guiseley, Baildon, Bingley, Otley, Leeds, Bradford, Harrogate, Skipton and Keighley.