Did you know chef Sean is also a ceramicist? The children love his fresh cooked lunches but it was great to have him out of the kitchen and in Miss Smith's Art room this week, helping our Form 5 and 6 classes.
Sean gave each pupil a slab of clay which they had to mould around a cylinder shape to start forming their lighthouse or tower. The children gathered around to watch each step of the process to create this formation.
Sean and Miss Smith came around the class to help each child score the ends of the clay to fit together. Once this was possible the children used a water/clay mixture to stick the clay to the cylinder.
In the next few weeks of Art lessons, the children will be able to mould and decorate their towers to create either a lighthouse or a tower.
The clay will be baked in the kiln in Sean's studio before being decorated to make each design unique.
Thank you Sean, we're looking forward to seeing more pottery work from our pupils over the year!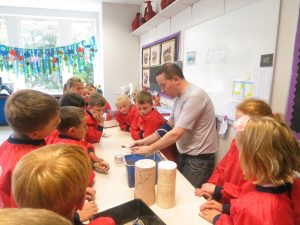 Conveniently situated on the A65 between Ben Rhydding, Ilkley and Burley in Wharfedale, Ghyll Royd School, Pre-School and Nursery is ideally located for families living in or commuting to the surrounding cities, towns and villages of Ben Rhydding, Ilkley, Burley in Wharfedale, Addingham, Menston, Guiseley, Baildon, Bingley, Otley, Leeds, Bradford, Harrogate, Skipton and Keighley.