The rain couldn't stop Reception exploring the outdoors as they went on a trip to Harewood House on Tuesday!
The children arrived in the morning with Mrs Hudson and Mrs Langan and were met by the lovely education team at Harewood House. The class went outside first of all to meet the penguins.
The penguins were in their element slipping, sliding, and swimming around their enclosure. Reception loved looking at the penguins swimming and watching them as they were fed by the trainers.
Inside, the class made penguin hats by cutting out and colouring the feathers and beaks before attaching to paper crowns.
They then practiced developing their formal writing skills by writing letters to fairies. They found the fairy door in the woods and placed the letters in the tree where hopefully a fairy will collect them later.
Wandering around the grounds, the children found a waterfall. Each of the class threw a coin over the bridge and made wishes – which the fairies will make come true!
On Thursday, a reply to the letters appeared in Mrs Hudson's classroom!
Find all the pictures from Reception's trip below: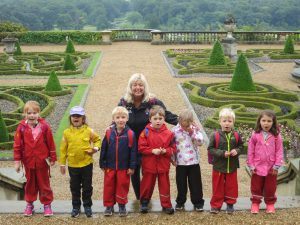 Conveniently situated on the A65 between Ben Rhydding, Ilkley and Burley in Wharfedale, Ghyll Royd School, Pre-School and Nursery is ideally located for families living in or commuting to the surrounding cities, towns and villages of Ben Rhydding, Ilkley, Burley in Wharfedale, Addingham, Menston, Guiseley, Baildon, Bingley, Otley, Leeds, Bradford, Harrogate, Skipton and Keighley.