Earlier in the year we launched the Ghyll Royd School and Pre-School app.
The app allows parents to stay up-to-date with news, the School calendar, and many other fantastic features at their fingertips.
The free app is available for Apple and Android smartphone users.
We're delighted that the app has been so well received by parents.
From speaking to some parents who are not social media, we have created a new Facebook icon on the app so that parents can look at regular social posts from the Ghyll Royd School and Pre-School Facebook page without signing up as a member.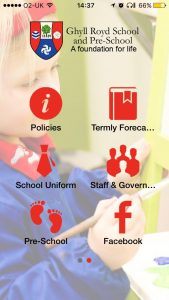 If you haven't yet downloaded the app, please visit your smartphone's App Store, search 'Ghyll Royd School' and select 'Download' or 'Get'.
Conveniently situated on the A65 between Ben Rhydding, Ilkley and Burley in Wharfedale, Ghyll Royd School, Pre-School and Nursery is ideally located for families living in or commuting to the surrounding cities, towns and villages of Ben Rhydding, Ilkley, Burley in Wharfedale, Addingham, Menston, Guiseley, Baildon, Bingley, Otley, Leeds, Bradford, Harrogate, Skipton and Keighley.