In English this term, Form 5 have been studying 'The Convergence of the Twain' by Thomas Hardy and creating sea poems.
Mr Nicholson organised a spellbinding English lesson to test our vocabulary and explore the different words that can be used to improve our creative writing.
He chose the lesson using a card trick by slapping a pack of playing cards against a tree. One card with the word 'potion' written on it stuck to the tree! Mr Nicholson then gathered the class around him to listen to what the 'potion' task was.
In the woodland area of Greystone Manor, Mr Nicholson asked us to collect different objects to produce a potion. When picking our potion's ingredients, we had to think about what our potions would be used for. Some of us chose garlic, some chose leaves, some chose grass and a lot of us chose soil to make it a muddy potion!
Once we had collected all our ingredients, Mr Nicholson added water which we mixed with sticks. The potion was sludgy and slimy and smelt disgusting! Yuck!
One by one, we went around the group to find out what our potion was called, and what its uses were – this tested our imaginations and our creativity as we had to describe our potions to the class.
A potion that cures illness; a potion that immobilises criminals if you pour it over them; a potion to make people feel better if they drink it were just some of the examples given by the rest of the class.
Mr Nicholson's next task involved turning the potion and mixing stick into a pen and ink! He assigned a letter to each of us and we had to find objects around the woodland area to describe. Once we had found something to describe, we had to use our inky potion and stick to write the word on the object.
Our vocabulary and creative writing skills were tested as we had to think of sophisticated adjectives, rather than easy words like 'good' and 'happy'. Joey's letter was 'H' and he wrote 'Humongous' on a very large tree! On the very same grand, tall tree, Charlie wrote 'Fantastic' as he thought it was the biggest in the grounds. Ava described the Forest Schools campfire as 'Manmade' and etched it onto the ground with her stick. It was a difficult task made enjoyable with the outdoors as we could think more creatively outside of the classroom.
We gathered back into a circle to discuss the words we'd chosen. For the next part of the lesson, we had to become human thesauruses and write down words similar or equal to the words written on the whiteboards: nutritious; intriguing; derelict and tedious.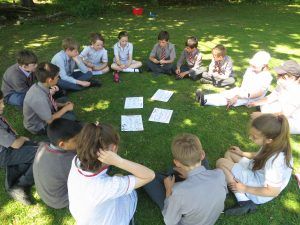 To finish the lesson, Mr Nicholson used our Titanic poems to play word bingo. We each wrote down six words we had thought might commonly appear in our poems such as 'sea', 'ship', 'children', 'cry', and if Mr Nicholson read them out, we crossed them off. It was really interesting getting to hear each other's poems and listening to the different describing words used to form a story.
The lesson was packed full of fun, interesting and different ways of developing our vocabulary. Our poems are going to be filled with lots of sophisticated, fantastic, descriptive words!
Conveniently situated on the A65 between Ben Rhydding, Ilkley and Burley in Wharfedale, Ghyll Royd School, Pre-School and Nursery is ideally located for families living in or commuting to the surrounding cities, towns and villages of Ben Rhydding, Ilkley, Burley in Wharfedale, Addingham, Menston, Guiseley, Baildon, Bingley, Otley, Leeds, Bradford, Harrogate, Skipton and Keighley.