Team Ghyll Royd is back participating in sporting fixtures and festivals.
On the back of the U11 Rugby Cup win, the U11 Football Team also did us proud coming top of their Cup group beating Westville 2:0, Moorfield 4:0, Hovingham 2:0 and drawing with Brackenfield 0:0.
Thank you Ashville College for organising the event, we loved meeting all the players and coaches.
A special mention goes to Coach Nicholson
for his pre match talks and strategies.
Several of the team play football outside of school for Burley Trojans, Bradford City and Leeds United Academy.
Player Cameron said: "It was great to play against the other schools and we worked really well as a team!"
Another great fixture on Tuesday as our U9 Netballers represented Ghyll Royd at a festival hosted by Bradford Grammar!
The tournament saw our sports stars win 3-0 against Brackenfield, draw 0-0 against Bradford, Leeds and Gateways junior schools and lose 0-1 against Bronte House.
Well done team and thank you to Bradford Grammar School for hosting!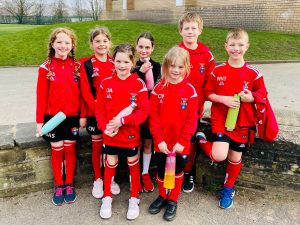 William said: "We had lots of fun today and I'm looking forward to the next one."
Ghyll Royd School pupils receive an average of 10 hours of outdoor and/or physical activity per week, and are encouraged to continue this outside of school in sports clubs and extracurricular activities.
We are part of the School Games Network who support us to actively encourage our children.